The fingernail ansich is an arched plate on top of the hand covering the fingertips. In addition to a protective function for the finger nails support the grasping function of the human hand.
The fingernail is a skin appendages, such as hair which is made of keratin. The nail thereof from a plurality of superimposed layers. Keratin is a structural protein that is necessary for the construction of a cell structure. The thickness of the nail  is about 0.5 to 0.75 mm, but may be slightly different from person to person. The complete structure of a nail can be divided as follows: the nail matrix, the nail plate, the nail bed and the nail bed or nail fold.
The nails were over time still attributed other functions. Thus the appearance of the nails, for example, is now a significant indicator of the well-kept appearance of man. Since fingernails in daily life, many people are stressed very strongly need to safeguard the preppy look regularly done intensive care. This care of the nails is generally grouped under the term manicure. The name comes from Latin and is derived from the words manus (hand) and cura (care).
The fingernail structure and the nail matrix
From Here, the nail is formed, therefore it is called the matrix and nail root. It is caused by a small invagination of the epidermis. By cell division here incur new cells push the older ones to the front, where they harden and then form the nail plate. Keratin cured in air, so that the nail is somewhat softer in the rear region, as for example, the free edge of the nail. The nail matrix is ​​very crucial for the growth of the nail. If they are injured or damaged, the nail can grow temporarily or even permanently deformed or less. Very severe damage may also cause nail that no longer formed.
The nail bed
The nail bed can be seen as extension of the matrix. It lies under the nail plate, and contains many fine nerves and blood vessels that give the nail his rosy color.
The nail plate
It adheres to the nail bed, which is located below and from which there is formed in the matrix cells. There are three superimposed keratin layers, with the bottom and the top is the softest hardest. If some cells fuse together properly, create small cavities, which are visible as white spots on the nails. This is nothing serious and grows out over time. The portion of the nail plate, which projects beyond the tip of the finger, is called free nail edge. There, the nail is held by the hyponychium, a small piece of skin under the nail.
The Paronychia / nailfold
Around the nail plate there is a fold of skin. The skin on the sides of the nail is called the nail fold, the piece of finger back Paronychia. He is here a kind of bag, in which the nail is embedded and the eponychium, a small film that rests on the nail plate. This and the nail bed and nail fold protect the nail and prevent the ingress of foreign bodies or bacteria. For this reason, the cuticles are never cut or injured, which can lead to a painful inflammation of the nail bed. If the skin is softened slightly, it can be pushed back very well. The best way is to use a wooden stick or carefully with your fingers. Massaged regularly to a high quality oil, this keeps the skin supple and prevents tearing.
The purpose of this website
We want to give you this website with all the information bundled on the subject at hand fingernails. Whether nail diseases, nail injury, false nails or eg the annoying finger – nail fungus is explained here. We would be delighted if we could make a part of your education.
Kids are naturally creative because of their natural curiosity and new kids nail art design ideas put that creativity at kids' fingertips. Kids also have varied interest from sports to music and there are new kids nail art designs for every kid's fancy.

Nail Art for Kids. Nail art for begginers
Even if painting such a small space as the kid's nail seems difficult then there are nail art design suitable for kid's nails.

Cool Kids nail designs
Get these looks girlish app with video and photo gallery of hairstyles, nail art designs and makeup! This beauty app is perfect for girls who want to look stunning on her wedding day or prom and without special occasion!


- Browse our photo gallery of more than 500 hairstyles and find the right one for you!
- Read tips on how silky, shiny and healthy hair-more than 250 hair care tips!
- Watch tutorials for creating the latest hairstyles hairstyle more than 400 tutorials!
- Find perfect nail design for every occasion more than 500 photos of fashionable nail art!
- Are about strong, healthy, beautiful nails without the nail salon over 250 nail care tips!
- Learn how to properly apply nail polish and create beautiful nail design nail art more than 350 tutorials!
- Photo Gallery with more than 500 make-up looks perfect for prom, wedding, date, clubbing or girls' night out!
- More than 250 beauty and makeup tips for applying blush, techniques for applying eye shadow tricks for applying mascara, and more!
- Watch makeup tutorials and learn how to enhance your natural beauty, looks more than 500 video tutorials on creating fun and fabulous makeup!


It is a well known fact that a stylish manicures can enhance your beauty and style. Just as the nails are, how big the nails too important, this is why most women do get their nails as often as they can. The summer season is here and colorful nail art ideas for summer are more than welcome, as choosing a cute design from a huge selection of nail art designs is not easy.
This summer pastels seem to be quite popular in the fashion as well as nail art due to the fact that a warm pastels and bright coloration, are perfect for the summer season. There are a variety of new techniques are available meant so that new and fabulous designs are created.
You can choose to create your own colorful nail art design or. At a professional nail salon for a sophisticated, professional nail art design
To try you in choosing the right when it comes to your colorful nail art design, inspired from the following colorful nail art ideas for summer.


Colorful neon colors look great and are going to be very popular this summer. Applying neon nail polish on the top of the nails can be a very easy and fun manicure that will be definitely perfect for summer. Neon pink and purple looks fabulous, but you can also go for neon blue.
If you are like us, and you hit snooze more often than you should, this get-up-and-go 'dos ​​you out the door in a flash. Plus, they are great for the summer when the last thing you need to add in the day, is more heat. Want to see what style suits you?
Short hair is a no-brainer during the hot summer months and is easy to manage – you need to wake up and just go.
There's a reason ballerinas are partly to the tight knot. You can work up a good sweat and still fail a hair out of place.


Are you looking for a new hairstyle long, but nothing too extreme. The solution: Choose from these five guaranteed to flatter cuts – the bob, the shag, the pixie layers, long hair and bangs or long. You simply can not go wrong with one of them. Find out how to avoid common mistakes you hair and choose the best hair dye for dying your hair at home.
You can get all this with adroid aplications…
Shine, glitter and lots of colors. The free Android game "Nail Artist Design" is all about colorful nail design with beautiful designs for fingers and toes. Your task in this puzzle app is the photos of nail designs like in a real jigsaw puzzle set of nine parts together. The photos of the 177 levels you want in no time piece together with as few moves as possible.
Game design for stylish women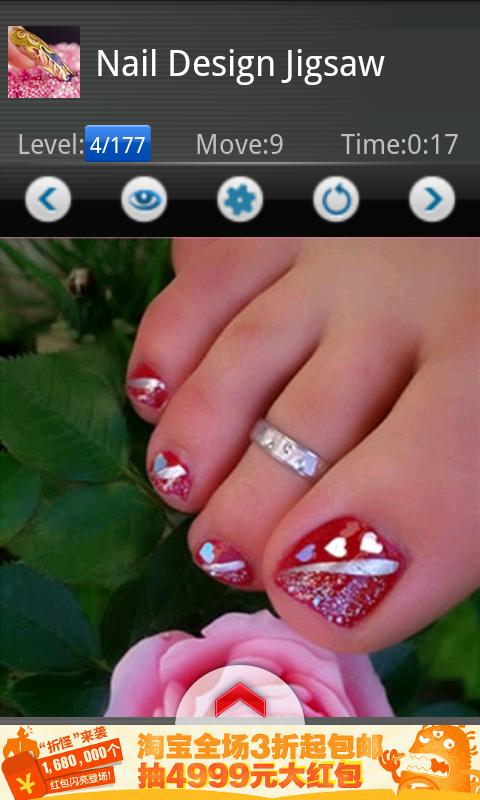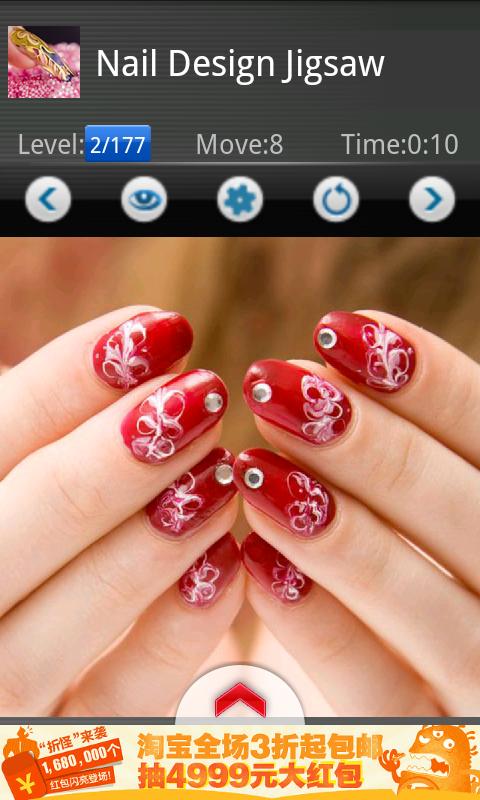 This Android App is a great way to bridge the waiting time the hairdresser or nail salon thematically appropriate. In the beautiful fashionable designs with bright colors and elegant shapes the puzzle game is just means to an end, because in fact you want to unlock only the beautiful creations. Please find more beutiful pictures in our nail gallery
Yesterday I have celebration for my birthday and I had painted new design with glitter, because it simply offers great look, but nothing that too much of a colorful, upbeat "disco ball," recalled because the less fit to my type. It should already be elegant, but be with a little kick. For that I have painted four paints in succession:
First First, I painted two coats of black nail polish. You can take as a base, for example, purple or dark blue, but I thought of a starry night sky and I chose black.
Second Then I painted a thin layer of Nail Polish. He has a very fine glitter, which actually reminds of stars. (For a more intense result can it layers of course!)
Third Then I painted the nail tips in the "French Manicure" style.  Nail Polish in Diamond Arcade [Set Green / Silver  This glitter paint has different sized pieces of glitter that make it so interesting, depending on the light and glitters blue, red, green, pink … rainbow colors – matching the fireworks that are marveled after midnight. As long as he was freshly painted, I gently spread with the brush down a bit further, so that there a real course of coarse glitter could. I wanted the most glittering starts the nail tips. Tres chic!

4th Finally, I was wearing a top coat, which should fix my little work. I think this is a very important step, because it clears everything and thus protects your nail design. Who so long busy with his nails like, too, that the result holds for a while.
I think it's wonderful. A nice way to start the new year, right? Have you ever thought about your makeup or your nails for the festive season?